LOUISVILLE ANTIQUE MALL
East Broadway and Campbell
834 East Broadway
Louisville, KY 40202

502-333-6195
For any of the Items on this page contact Louisville Antique Mall directly.
601A Sky Scraper Cocktail Shaker $48.00 SOLD
Item #601A.Glass ribbed cocktail shaker, 12 1/8 inches high with chrome lid. Art deco style. Ref.6010.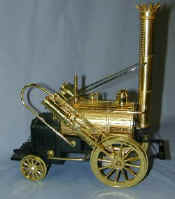 4823/358A Rocket Steam Engine AM Radio $135.00 SOLD

Item #4823/358A

. Articulated die cast model of George Stephenson's iron horse steam railroad engine. Working AM radio with some plastic parts. Gold color with black trim and parts. The tires move and engage in alternate fashion the drive pistons. Ref 6022.



Japanese Wood Plaque
$85.00 SOLD
Item #5161. Black lacquer on wood with Japanese mother of pearl written script.
This is a GI gift to the family at home in the States immediately after World War II. Plywood seams starting to separate and there has been some re-gluing to stabilize wood splitting. Measures 16-3/4 x 8 inches.